I had a couple of things -er-
people
on my mind today! My husband was in the air, flying back home from a business trip to Hong Kong. My daughter Kate was climbing rocks, a quartz conglomerate to be exact, at the Shawagunks in New York. The area is called the Gunks and I wasn't particularly soothed by the cover of the guide which I found online -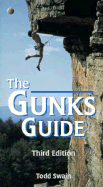 The situation made me think of another blog post I did in 2007 about another anxious day - you can read about it here.
The bottom line is, Kate's an experienced climber and has probably had an exhilarating day. And Bill arrived home a few minutes ago, tired from a long trip, but in good shape. I worry too much, I know. And when I cartoonize myself doing it, I can really see the futility and humor of it all! Things just about always work out for the best. I like the Mark Twain quote,
"I have known a great many troubles,
but most of them never happened."
Here's wishing everyone a wonderful week to come!